Inclusive Games designs awareness raising tools and training solutions in inclusion. We apply an active pedagogy in our games and our training sessions to induce a real change in mentalities and behaviors. Our games encourage you to adopt an inclusive approach, our workshops immerse you in the heart of inclusion.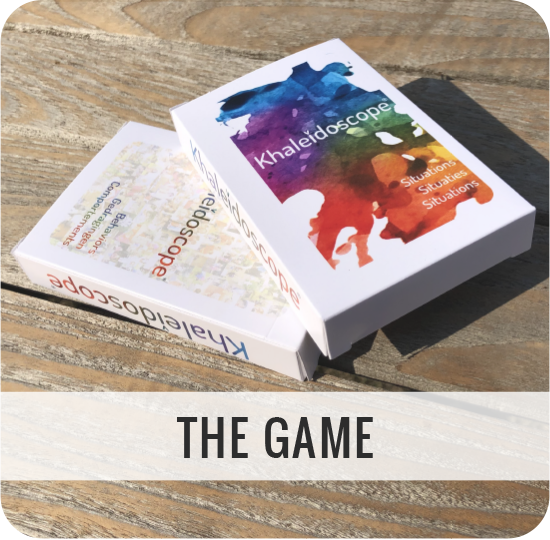 Khaleǐdoscope
Khaleǐdoscope® is a kind of board game and a role-playing game, a card game and a game of chance, a fun gift for yourself with friends or family and an incredibly effective tool for change.
Are you looking for a smart and innovative game to address diversity and inclusion?
With children (as from 8 years old)? Opt for the "children" version of Khaleǐdoscope®. Would you like to use this tool during a workshop in your school? Invite us to facilitate a workshop with your teachers and/or your pupils/students.
Do you like the concept and would like to apply it to your company? Form a group of 4 to 5 participants and we will come to present our concept of inclusion to you. Are you convinced and want to organize a workshop on your office? Let's define together your exact needs and set a date.
Choose the formula that suits you best :
Khaleǐdoscope game box (Children or Teenagers)
35 €
VAT incl.
+ shipping costs
Half-day workshop in schools
(20 pers. max.)
+ 1 KHALEǏDOSCOPE GAME BOX
(CHILDREN) INCLUDED WITH THE 1st SESSION
245 €
excl. VAT
+ travel expenses
2 hours online corporate workshop
(5 pers. max.)
On site trainings
(20 pers. max.)
Train the trainer sessions